KAYAK RENTALS http://www.deltakayakrentals.com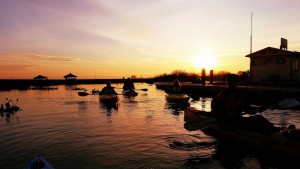 Kokopelli Kayaks is located in near Delta Bay at 151 Brannan Island Rd. Kayaking brings you right to the homes of otters, beavers, seals, turtles, birds of all kinds and much more!!! Paddle through the tulle areas, around islands, inside marinas, and have the greatest adventure of your life!! Bring binoculars, lunch, water, sunscreen, and a dry bag and enjoy a relaxing day!!! Kayaking is an enjoyable and relaxing adventure with awesome scenery in our area.
Delta Sailing School http://www.deltasailingschool.com
Delta Sailing is located next to Delta Bay at 1200 W Brannan Island Rd. They are a family-owned, family-run sailing business and sailing in the California Delta and San Francisco Bay since 1985. They offer a variety of classes for new sailors, seasoned sailors, and those who are new to these waters.
The Delta Loop is a 10-mile road which loops around parts of Andrus Island. We start on Hwy 12, about 10 miles west of I-5. You take a right immediately after crossing the Mokelumne River swing bridge. This will take you past B & W Resort (long ago, there was a cannery here) and you will pass under Hwy 12.
There are over 20 waterside resorts along this stretch of levee road called Brannan Island Road. They offer most anything you might require, from overnight accommodations to pizza, from overnight guest docking for you and your boat to full-hookup RV sites for your land yacht. You can dine sumptuously at a floating bistro (Moore's Riverboat), dine casually at The Lighthouse Restaurant, swim in the pool or play tennis on the tennis courts of your campground (Delta Bay), cook up some chow at your housekeeping cabin, boogie on the dance floors of one of the places with weekend music, or just sit on the river bank and fish for stripers or catfish and watch the boats go by.
The crops are a-growing, and you can see farmers tilling the fields. The sunsets are beautiful here, and if the timing is right, they can lend a warm glow to a passing rust-bucket freighter, heading upstream to the Port of Stockton. Korth's Pirates Lair was probably the first resort in the Delta, and it still is run by multiple generation family. Stop by for breakfast at the marina cafe and enjoy all the flowers around this beautifully landscaped marina. Something always is in bloom here.
The Delta Loop Association plans a gala celebration each spring with live music and other activities at many of the resorts. The celebration takes place the first weekend of May.
Heading home, take a right on Jackson Slough Rd., which takes you back to Hwy 12. Left (west) on Hwy 12 takes you to Rio Vista, right takes you to I-5 to Lodi.