Delta Bay is located in the town of Isleton at the heart of the California Delta in Sacramento County, Calif. The bustling, historic state capitol of Sacramento is only a 50-minute drive – which is also located within a short drive to the following cities: Antioch, Bethel Island, Brentwood, Clarksburg, Fairfield, Locke, Lodi, Oakley, Pittsburg, Rio Vista, Stockton, Suisun City, Walnut Grove.
Asian Pacific Heritage Month is celebrated each May in the town of Locke – a weekend-long public event with Lion dances, martial arts demonstrations and more. The Isleton Cajun Festival happens each Father's Day weekend, and Rio Vista hosts the popular Bass Festival in October.
Outdoor recreation near Isleton:
Brannan Island State Recreation Area
Franks Tract State Recreation Area (accessible only by water)
California Delta area
California Delta Chamber and Visitors Bureau
Rio Vista Chamber of Commerce
Deltaloop
Delta California
Delta Boating
Museums and other area attractions
Isleton Museum (Isleton Brannan-Andrus Historical Society)
33 Main Street, Isleton
Western Railway Museum
5848 Hwy 12, Suisun City, CA 94585
707-374-2978
Rio Vista Museum
16 North Front Street, Rio Vista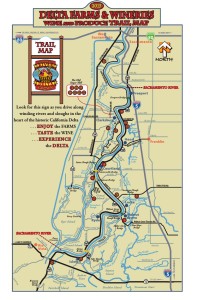 Steamboat Acres
In 1848, the Peck family settled one of the first farms in the Delta. Some of their pear trees are more than 100 years old. Tim, Laura, Michael and Tara Neuharth are the 5th and 6th generations of a continuing family farm tradition on the same land.
Double M Farms
The McDowell family has been farming on Grand Island since 1947, when Charles Sr. moved his family from Petaluma. Charles Sr. started farming 18 acres of pears, which are now over 100 years old, and 250 acres of row crops. Over the years, the family has grown pears, sugar beets, alfalfa, feed corn, wheat, tomatoes, dried beans, milo, and safflower.
Maggi's Farm
Since the 1950's, Maggi's Farm has solely featured delicious Bartlett pears. Ripened without commercial processing, the sweetness can't be beat. The pear stand in the front yard sells fresh Bartlett pears grown in their own orchard.
Vierra Farms
David still cultivates his grandfather's 2 acre garden plus 800 acres of specialty vegetables. His specialty items include pumpkins, 6 varieties of hard squash, Heirloom and slicing tomatoes, black seedless watermelons, yellow seedless watermelons, regular watermelons, heirloom and slicing tomatoes. In 1989, he founded his own wholesale division, BELLAJACE Produce, named after his three children, Isabella, Jace and Ayden.
Delta Farmers Market
Delta Farmers Market is owned by Ken and Laura Gregory Scheidegger. Ken and Laura also own Gregory Farm located on Twitchell Island. Fruit from Gregory Farm's orchard has been enjoyed by California Delta and San Francisco Bay Area people for over two generations when Warren Gregory first planted fruit trees in 1985.
Locke Food and Wine
Locke Food and Wine is a country store featuring local wine and food as well as art.
Walnut Grove
The Walnut Grove area and sorroundings are filled with hostory. Walnut Grove, Locke and Ryde are one of the earliest settlements along the Sacramento River.